Roll over image to zoom in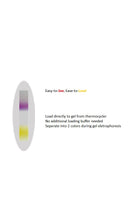 Description
amfiSure Taq DNA Polymerase provides superior yields in both routine and challenging PCR application. Using amfiSure Taq DNA Polymerase in routine and challenging PCR reduces smearing and virtually eliminates unwanted background 
artifacts. In addition amfiSure 2X Reaction buffer including dNTPs and Mg++ minimizes reagents handling steps and reduces the risk of contamination.
For added convinience, amfiSure Taq DNA Polymerase contains red and yellow loading dyes to allow loading of PCR product directly on a gel after thermal cycling,
minimizing pipetting steps and providing easy visualization of sample. The red dye runs in a range between 500bp(2% gel) and 1500bp(0.8% gel) and the yellow dye runs at less than 10bp. amfiSure 2X Reaction buffer contains fixed MgCl2 
concentration of 1.75mM. However, higher concentrations may be achieved by adding additional MgCl2.

Store at -20℃



Contents
amfiSure Taq DNA Polymerase, 1u/ul,
amfiSure 2X Reaction Buffer
Composition for each reaction
1u/rxn amfiSure Taq DNA Polymerase, Reaction Buffer,1.75mM MgCl2, 0.2mM dGTP, 0.2mM dATP, 0.2mM dTTP, 0.2mM dCTP, stabilizers, and red and yellow loading dyes
Unit Definition
One unit is defined as the amount of the enzyme required to catalize the incorporation of 10nmol of dNTPs into acid-insoluble material in 30 min at 74 ℃
View latest Certificate of Analysis: Batch 04252219

-or-

Type in batch #:
Payment & Security
Your payment information is processed securely. We do not store credit card details nor have access to your credit card information.